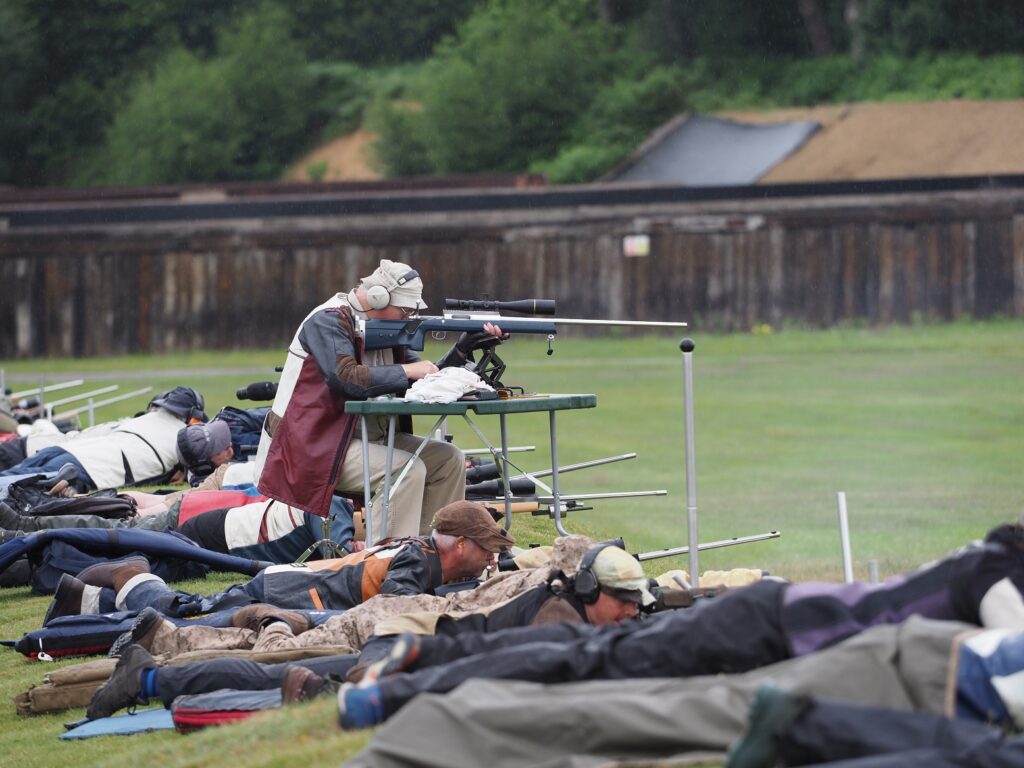 The first saturday of the 2021 Imperial Meeting kicked off in unusual fashion with very gentle conditions. This led to high scores throughout the entire day. As is usual, the shoots on the first day consist of 2 sighting shots and 15 to count. Due to the luxury of sighters in a 15 round shoot, each competition consists of two ranges.
Whitehead
In the bengin conditions, there were many competitors shooting "possibles" at each distance. Rob Lygoe, Nick Tremlett and John Pugsley showed their intent in this year hopton. They all scored the maximum possible score of 15 V-bulls at 1000x. Julian Peck, Rosanne Furniss and Claire Halleran all scored 75.14v and must have been suprised to learn that they weren't in the top 3 shooters on the range.
1100 yards was a similar affair although with the added challenge of the extra 100 yards. There were another smattering of possibles with twelve competitors managing a possible at both 1000 and 1100 yards. In total there was 49 possibles at both ranges by all the competitors. This is unsual for match rifle but the calm wind conditions that were experienced are also unusal.
Rob Lygoe continued his fine form from the morning, scoring 75.13v at 1100 yeards to win the Whitehead M.R with 150.28v. John Pugsley came second (150.26v) and Julian Peck third (150.25v)
Halford
The Halford consits of a second shoot of the day at 1100 yards followed by 1200. This therefore tests all those competitors who might turn up with their 1200 yard elevation after lunch. The calm conditions continued and therefore so did the high scores.
Rob Lygoe once again led the pack starting with another 75.15v at 1100 yards. He however "only" managed to score a 74 at 1200 yards which mean that Nick Tremlett snuck ahead in the Halford. He was the only competitor to score 75 at both 1100 and 1200 yards. He won the Halford with 150.18v with Roby Lygoe in second place (149.26v), follwed by Julian Peck (149.22v).
Saturday Aggregate
After the first day of the Hopton, Rob Lygoe leads the Hopton and therefore wins the Saturday Aggregate with 299.54v. Hot on his heels is Julian Peck, also on 299 but with "only" 47 V-bulls out of the maximum possible 60. Guy Blakeney is in third with the only 298 of the day. With the high scoring nature of the first day, the field is close so it is all to play for over the following three days.
More details of the Hopton can be found on the NRA website, NRA Facebook page and also on our very own Facebook page
All photos courtesy of the NRA and Paul Deach.