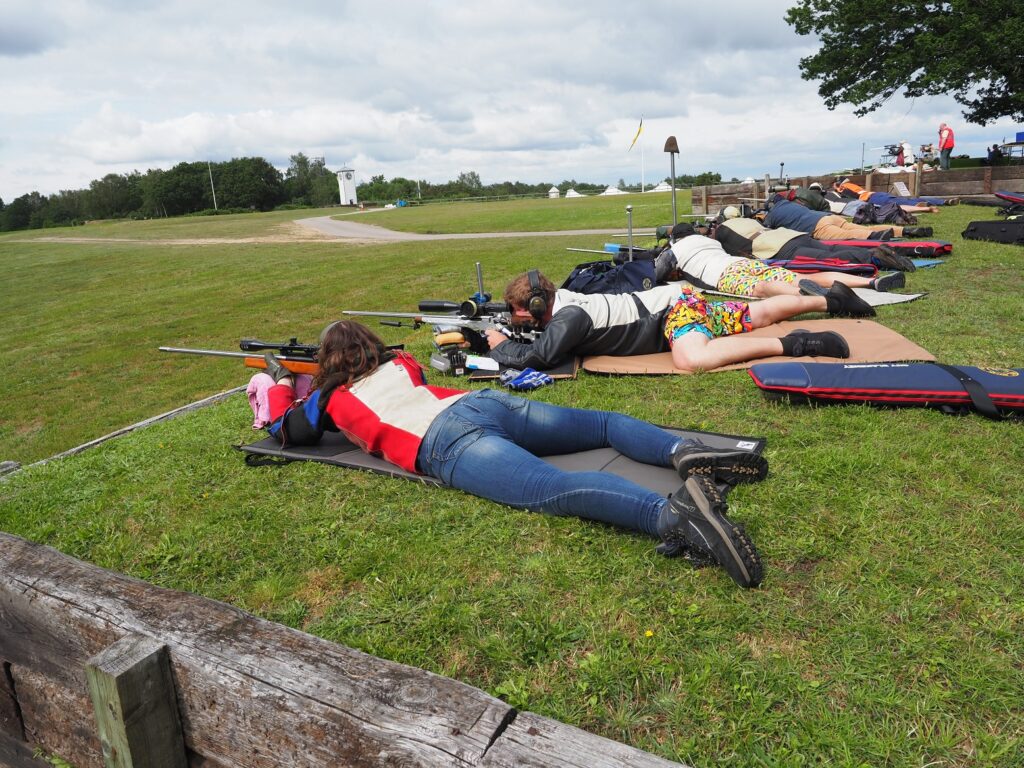 The second day brought some wind to Stickledown althought still gentle by Match Rifle standards. With the prospect of three 2 and 20 shoots, the number of possibles was reduced from yesterday. Although there were some significant ones.
Cottesloe
The day started with the Cottesloe at 1000 yards with some impressive scores. There were six possibles recorded with Nick Tremlett leading the field with 18 V-bulls. He was followed by Ron Scaglione, John Lindsay III, Guy Blakeney, Jon Sweet and new-to-Match-Rifle Ed Compton. Top lady Sophie Wentges finished 7th on 99.14, with Top Tyro David Firth on 98.11. Leading shot from yesterday Rob Lygoe could "only" manage a 99, a score that most of the field would be very happy with.
Wimbledon
Rob Lygoe's mistake at 1000 yards was to be his last of the day however as he return to top of the pile in the Wimbledon. He scored one of the two possibles on the range. His 100.16v beating Mike Judge to second place with 100.10v. Kate Fitton and Rosanne Furniss tied as the top Ladies in 8th overall on 98.15v. David Firth navigated the field well finishing as the top tyro with 98.11v. His 12th place overall was just enough to avoid losing his tyro status.
Armourers
Even though there have been numerous possibles during this year's Hopton so far, repeating this feat at 1200 yards in a 2+20 shoot is a rare occasion. In fact, there have only been 22 100s at 1200 yards…before today that is. In the Armourers, both Rob Lygoe and Alex Cargill Thompson both managed the same score of 100.16v. I can only imagine shooting a 100 at 1200 yards to find out that you haven't won but instead will be shooting in a tie shoot. Stay tuned for details and results of the tie shoot. Behind those two incredible scores, Scots Angus McLeod and Jim McAllister both managed 99s with 99.12v and 99.4v respectively. Hannah Fisher came in fifth at top lady with 98.11v. The top tyro was once again in twelfth place although this time it was Guy Hart with 96.10v. From the number of tyros just outside the top ten, you would think they are trying to avoid breaking their tyro.
Hopton Standings
With the longer shoots and the presence of wind, some competetitors thought there might be a chance to make up some lost ground on the leader. This turned out to be highly misplaced as Rob Lygoe extended his lead at the top of the Hopton to seven points from his nearest competitor with 598.98v. Out of 120 shots fired so far by Rob, only 22 of those have missed the V-bull with 2 of those going all the way into the four ring! This performance also gave him the Weekend Aggregate and the Martin Parr Aggregate. Second to fourth place in the Hopton is hotly contested with three shooters all on 591: Alex Cargill Thompson (591.86v), Nick Tremlett (591.83v) and Angus McLeod (591.72v).
More details of the Hopton can be found on the NRA website, NRA Facebook page and also on our very own Facebook page
All photos courtesy of the NRA and Paul Deach.