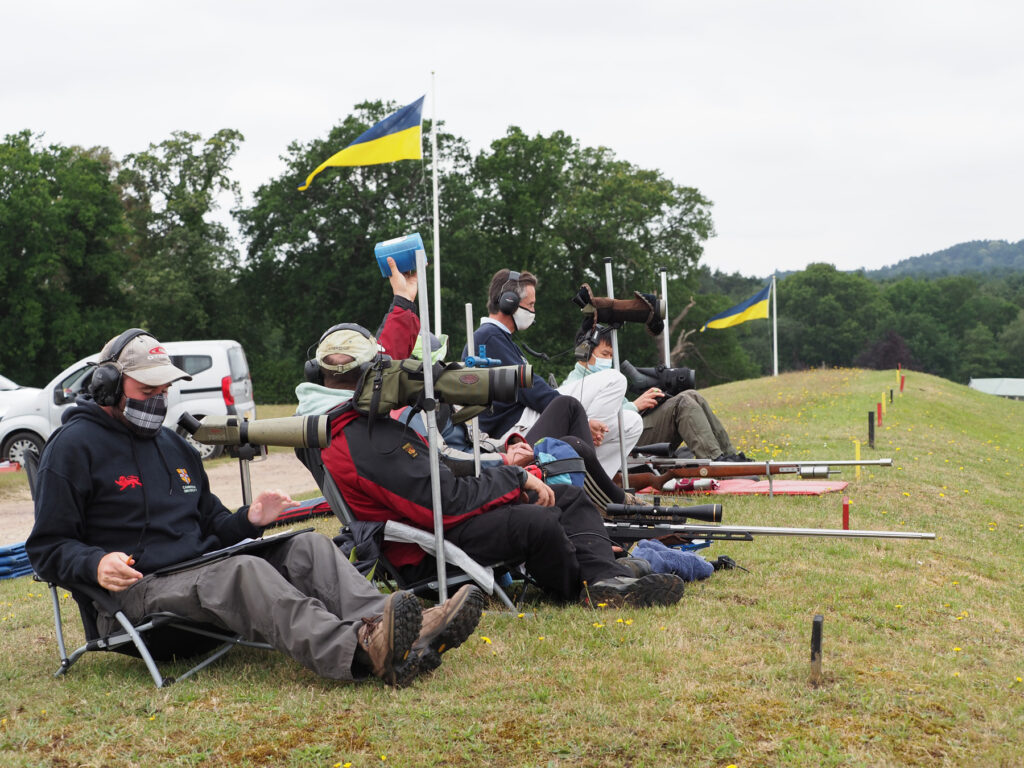 Oxford were defending champions of The Humphry Challenge Cup, having won the match in 2020 for the first time in over twenty years with some brilliant shooting. Strong teams were selected by both Universities for The Humphry in 2021. Students from both Institutions had strong showings in the Hopton and The Elcho Shield. Of particular note, Alex Harrison (Cambridge) top scoring for Wales in the Elcho. Fergus Flanagan (Cambridge) coached Scotland to second place in the Elcho. Michael Horrell's (Oxford) 23rd place Hopton finish was recognised with a call up as Reserve/Plotter for England.
The conditions were similar to the Elcho Match yesterday with an angling headwind. This wind primarily came in from the right but with hints of left throughout the day. The trees on the righthand side of the range provdided some shelter. However the predominant headwind nature of the wind proved a good challenge for the coaches and shooters of both teams.
1000 yards saw Oxford starting on the right hand side to Cambridge, which gave a marginal benefit of shelter from the trees. Some strong, quick shooting and excellent coaching saw Oxford finish before Cambridge and lead 287.32v vs 284.26v (ex 300.60v) going into 1100 yards. Top score was Jiwoo Won (Oxford) with a very impressive 74.13v (ex 75.15v), closely followed by Michael Horrell (Oxford) with 74.9v, and Cambridge's Fergus Flanagan and Máté Pónya both on 73.9v.
At 1100 yards the targets reversed, Cambridge getting slightly more benefit from the shelter of the trees on the right hand edge of the range than Oxford. Oxford again shot strong and fast, finishing before Cambridge and posting an impressive 278.21v for the distance. Michael Horrell top scored with 73.9v. Cambridge took their time and looked to take advantage of brief calm patches of wind, managing to win the distance by 4 points with 282.19v, Fergus and Máté jointly top scoring again for Cambridge, each with 72.9v.
1200 Yards (The Decider)
Cambridge went into 1200 yards after lunch with a 1 point lead but 8 V Bulls behind. This promised an incredibly close finish with all to play for. Both teams struggled as the wind picked up, random gusts through the trees costing points for both sides. Oxford again finished first, showing impressive team cohesion throughout the match and depriving the Cambridge coaches' of fall of shot indications from their targets. The match came down to the final few shots from Cambridge captain, Cecilia Catuogno-Cal. She was the sole remaining firer who had impressively recovered from mechanical issues with her rifle and held her nerve. Her score of 66.2v was enought to win the Match for Cambridge.
Cambridge scored 269.15v vs Oxford's 267.15v at 1200 yards to win the Humphry 835.60v to 832.68v. Fergus Flanagan (71.5v) and Jiwoo Won (70.5v) were the only shooters to break the 70 point mark at 1200 yards. Fergus Flanagan top scored overall with 216.20v followed by Jiwoo Won and Michael Horrell, both on 215.22v.
As is traditional with the Humphry, external coaches are allowed. In other words, the coaches do not have to be current students. Fergus Flanagan is still a student and was a target coach for Scotland yesterday so was head coach for Cambridge as well as shooting. Both Universities would like to thank the support and help from all their coaches. The coaches of Oxford were Derek Lowe (Head coach), Mike Buchanan, Mike Wentges, John Webster. For Cambridge, the coaches were Fergus Flanagan (Head Coach), Ashley Abrahams and Nick Brasier.
More details of the Imperial Meeting can be found on the NRA website, NRA Facebook page and also on our very own Facebook page
All photos courtesy of the NRA and Paul Deach.