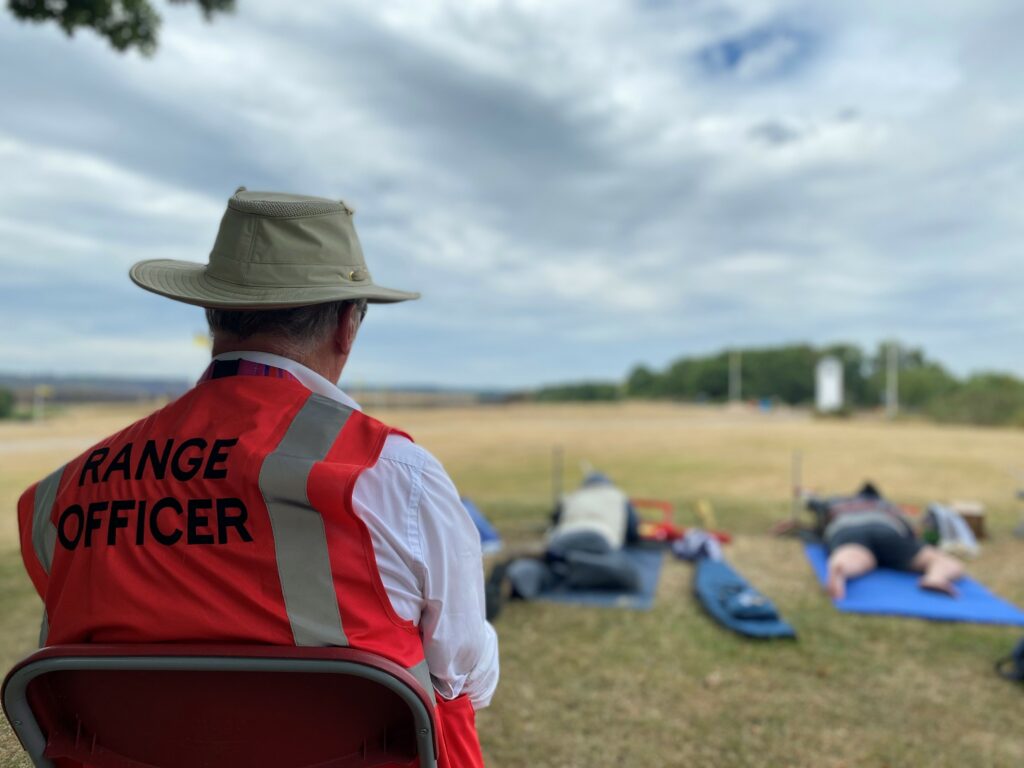 1000 yards started on time today, despite the smoke leading to one shooter asking when the fog would burn off, only to be told it had only just been burnt in. More stable winds at allowed several shooters to improve on their scores from yesterday, although this was balanced out by those who may have over-enjoyed themselves last night doing noticeably worse. Nine possibles (75 ex 75) were recorded at 1000 yards, with Jon Sweet leading the field with 75.12v (ex 75.15v), 1 V ahead of yesterday's winner, Nick Tremlett. Two Target Rifle shooters (albeit one with Match Rifle ammo) also scored possibles, Alastair Brown and Toby Raincock with 75.11v and 75.9v respectively. Your correspondent may have felt slightly aggrieved at being beaten by a Target Rifle shooter but reassured themselves that 1100 yards and 1200 yards were to come!
1100 yards saw the winds become materially trickier, with 3 minute wind changes through 0 not uncommon. Between the flags, mirage and fall of shot all combining to thoroughly confuse everyone, no possibles were recorded. The two leaders from yesterday, Nick Tremlett and Gary Alexander, gave everyone a chance by both scoring 68 (ex 75), with Nick recording a miss to count and Gary winding his sights the wrong way…. twice. However, there were some who coped with the conditions admirably. Jon Sweet was the top score (just) and took the overall lead posting a 74.8v (ex 75.15v) with Stefan Kuppen only one V behind (74.7v). One other notable score was Keith Baxby scoring a 69 with 3 magpies, quite an impressive feat.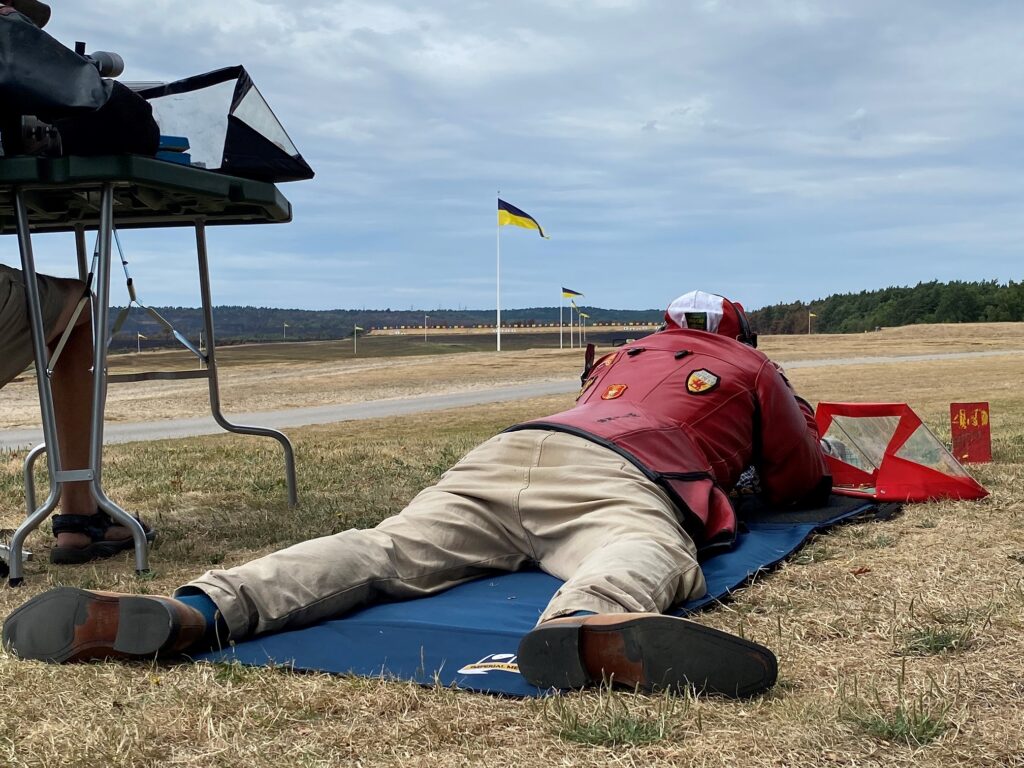 1200 yards allowed us to utilise the full width of targets, and sometimes even others! Rapid wind changes meant only visiting the white once was a source of pride for several shooters, with only a handful actually staying in the black. Rapidly changing winds from 2 to 10 minutes caused a mix of consternation and laughter depending on whether you were shooting at that time or not. The luck of the Irish was in order, with David Lindsay top scoring with 98.9v (ex 100.20v) and Gary Alexander with 96.10v, sandwiching Tremlett with 97.8v (including a magpie) on a day where the average was 86 (ex 100)!
Jon Sweet won the day with 243.28v (ex 250.50v), followed by David Dashwood on 242.23v and Tremlett with 240.26v. In the Overall standings Jon Sweet leads the way with 435.44v (ex 450.90v), Nick Tremlett holds second with 434.44v, and Gary Alexander in third with 431.43v. Russell Woodger is currently top u25 and lying an impressive fifth overall with a 427.33v (ex 250.50v).
The Ashes Day 2 Prize Giving and Reception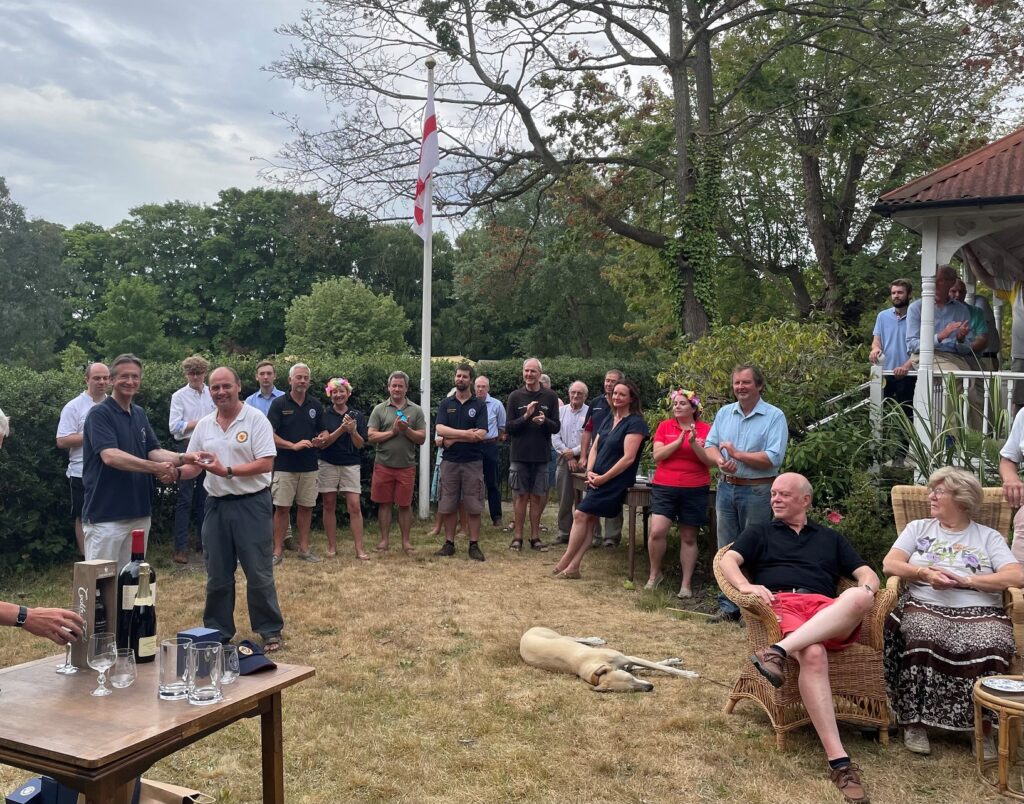 The day concluded with the prize giving, which was rather better attended than day one, although that may have had something to do with the drinks reception that ran alongside it. The prizes (now that they had been collected) for day one and day two were presented but that wasn't all the entertainment.
In aid of the GB Match Rifle Woomera Tour fundraising a brief auction was held with some tasty liquid lots on offer and some very generous bidding to go with it. But that wasn't all, in true 'drum roll please' fashion a live draw to create the teams for Day three's 1200 yards team competition. With lots of chatter amongst the competitors as they watched the teams develop as to who was going to be the favourite to take the win. Stay tuned for updates….
Day 2 and Live Results
The full results of the second day of The Ashes as well as the live results of the competitions still taking place can be found here. Once again our thanks goes to the English Eight Club for their technical support in arranging the entries, squadding and live results.