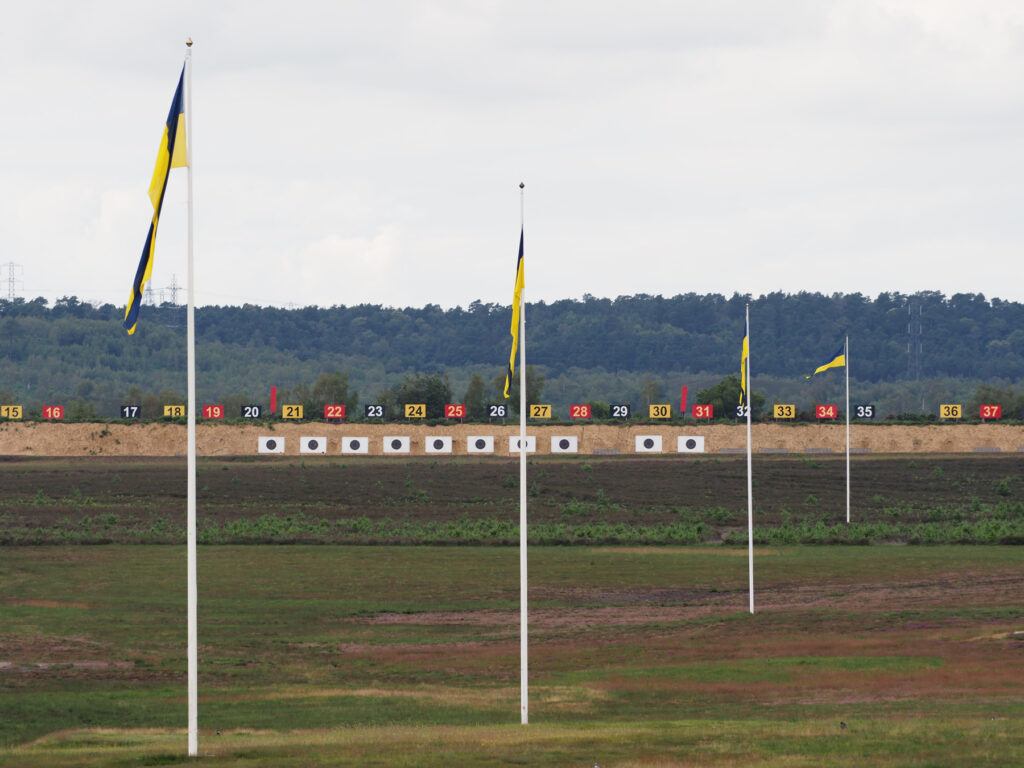 Edge
The Edge is a single competition shot on the Monday but is made up of two distances. 1000 yards is consider too simple so competitors start at 1100 followed by 1200 yards. This gives an oppourtunity for those sleepy competitors to forget that the day does not start at 1000 yards. Although one other competitor decided to handicap himself in a different manner, by putting a lovely V-bull on his neighbours target. No names will be given but he did make up for it at 1200 yards…
A huge 9 people managed 100s at 1100 yards. Alex Cargill Thompson and Fiona Day with 100.16v pipped Rob Lygoe and Mike Judge on 100.15v. 1200 yards saw a further four possibles; John Lindsay III on 100.9v and Angus McLeod on 100.12v, Fiona Day (100.12v) and Alex Cargill Thompson (100.13v). Before the start of this Hopton, there had only ever been 22 recorded 100s at 1200 yards. There have been 6 in this meeting by 5 different people. It is a rare and difficult feat to achieve so congratulations to all. A special mention to Fiona Day who has become the first woman to shoot a ton at 1200 yards in an individual shoot. Also huge congratulations to Alex Cargill Thompon who has managed it twice in as many days.
The Edge was a close run affair between Fi and Alex, both of whom went clean for the entire day to finish on 200 ex 200. An amazing achievement by both. Fi finished one V bull behind Alex who wins the Edge with 200.29v (ex 200.40v).
Five Nations
Shot concurrently with the Edge, four teams competed for the Five Nations. Due to COVID restrictions, a team from Normandy could not be fielded which left the four nations of England, Scotland, Wales and Ireland.
England Captain Nick Tremlett managed to pre-select Edge winner Alex and runner up Fi alongside Michael Hissey and John Lindsay III. England beat the other home nations by 20 points to take the Five Nations.
Armourers Tie Shoot
For those unfamilar with tie shoots, they consists of 1 sighter which is convertable and 5 counting shots. If score is still tied, then a sudden death format is adopted. A single shot is fired and the winner is the one with the higer score. If the two shots are equal, another shot is fired until a winner is declared.
After two eqaully incredible shoots in the Armourers yesterday, Rob Lygoe and Alex Cargill Thompson lined up at 1200 yards to tie shoot for the Alexander Forsythe Memorial Silver Medal. After 20 consecutive bulls or V-bulls yesterday, Rob Lygoe continued his fine form with a score of 25.4v. Alex Cargill Thompson showed that he is human after all as he could only manage 23.3v. This was fortunate for spectators as with the quality and form of these two competitors, the tie shoot could have gone on for a very long time! Congratulations to Rob Lygoe for winning the Armourers.
FW Jones
As a break from the indiviual competitions of the Hopton, a team match is held on the Monday afternoon. This match has grown in popularity in recent years with seven teams of four entered this year. These teams were made up of clubs and university teams as well as teams from both England and Scotland. This results in a highly competitive match as well as a chacne for the national teams to test out potential shots for the Elcho on Wednesday.
With the threat of thunderstorms, all competitors took the tatical decision to shoot quickly at 1200 yards to avoid the rain. This was eminently successful with most competitors remaining dry. Although the thunderstorms did put a damper on the annoucement of the winners on the range as only a limited number could huddled under the single gazebo. However the high pitch screams of delight were clearly audible far and wide.
After 6 years of domination in this competition from the Hopton Supper Club, a new winner was crowned. Congratulations to the International MR Ladies team for winning the FW Jones with 571.51v (ex 600.120v). They were captained and coached by Sophie Wentges, second target coach of Hattie Mansell and shooters Hannah Fisher, Zoe Woodroffe, Rosanne Furniss and Kim Lindsay. In second place were the English VIII Club team just two points behind (569.43v). Regular winners The Hopton Supper Club were relegated to third place, another two points behind on 567.61v. Congratulations to all.
Hopton Standings
In the Hopton aggregate, Rob Lygoe's lead has decreased to 5 points with his 796.127v leading from Alex Cargill Thompson (791.115v), Nick Tremlett (790.108v), John Lindsay III (787.96v), Fi Day (787.93v) and Mike Judge (787.91v). Tim Brooking tops the Tyros with 767.78v – no one has yet broken their Tyro this year (needing a top 10 finish in a competition or top 20 in the Hopton). With 225 points still to play fo in the Albert and no sighters, there plenty of oppourtunity to gain (or lose) places.
More details of the Hopton can be found on the NRA website, NRA Facebook page and also on our very own Facebook page
All photos courtesy of the NRA and Paul Deach.